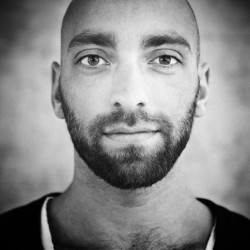 The story of Kabale und Liebe…
Almost 20 years ago Liron van Daalen was inspired to become a DJ after his cousin explained to him that the mixtapes he adored were created by one person seamlessly mixing one record into another. That revelation set off a chain of events that has seen him adopt the alias Kabale Und Liebe and rise up to become one of Holland's most exciting and reputable electronic music artists. He is a successful DJ and producer, co-owner of the irrepressible Soweso record label and constantly striving for the highest level of quality throughout everything he does. 2014 marks an important phase in Liron's career as he prepares to unveil his debut album, Realitivity, which delves deeper into his musical persona and sees the Dutchman go back to basics…
Liron's story began when he was 12 years of age, listening to the anarchic sounds of hardcore and gabba, he was fascinated with the world of electronic music from the get go. He picked up a part-time job and eventually saved enough money to buy some decks. With no one to learn from, he taught himself how to mix and those first naïve steps to learning how to DJ are the cornerstone of his entire career.
After a chance meeting with his idol DJ Rob at a huge rave in Rotterdam (at the age of 14) he cheekily asked if he could jump on the decks. Amazingly, DJ Rob gave him 20 minutes to do his thing in front of 3,000 people. After that there was no going back… Consistent appearances at many of Holland's most respected clubs throughout his teens gave him solid grounding in the art of DJing, and by his early twenties he'd got to work in the studio. By 2007, just a few years after he had started producing, he released Mumbling Yeah, which was named 'Track Of the Year' by Resident Advisor and helped establish him as a great producer. Over the years Kabale und Liebe has maintained the high quality of that early release, with his music signed to labels such as Rush Hour, Souvenir, Rejected and the mighty Strictly Rhythm.
The next logical step in Kabale und Liebe's career is the release of his debut album 'Realitivity', which heralds a change in direction for the Dutch master. Switching from software-based music programming to exclusively working on hardware has given him a new lease of life, creating a renewed sense of excitement about music and inspiring him to work on the biggest project of his career so far. Realitivity is based on the notion that everybody's reality is relative to their own personal interpretation. In the context of the album, the music on offer is subjective, built around electronic foundations but avoiding genre specifics. Essentially, the album represents Liron's diverse personal tastes and is an exercise in working beyond the confines of genre labels. The productions are raw and typically groovy, the result of numerous jam sessions in the studio – recorded in one take and run through his analogue mixing desk. Listeners are advised to expect a refreshingly human feel to all of the tracks and a few surprises…
Beyond the album, Liron continues to tour relentlessly, feeding his desire to keep on sharing the music he loves. A return to spinning vinyl has helped to inject a healthy dose of dynamism back into his sets, some of his old tricks have been brought back into play, reinforcing his love for the craft.
Meanwhile Soweso remains Liron's pride and joy. Launched in 2009 with fellow Dutchman Lauhaus, the highly-respected label represents the very finest in house and techno music.
It's been a long time since the young Liron first encountered electronic music, but the hunger for it remains just as strong now as it was for that 12-year-old boy. Rest assured, music will be Kabale und Liebe's enduring passion for eternity…